I love bright, bold, vivid lipstick. A few years ago I discovered, contrary to what I believed all through my teens and 20s, that lipstick look good on me. I always thought I couldn't pull off bright lipstick. Now I never leave home with out it. I have gone through a ton of trial and error with different brands, formulas and colors. I thought it might be helpful to any lipstick novices out there.
As with clothes I do not like to waste my money on expensive designer brands. Drug store lipstick is just as good as pricey Sephora brands.
Case in point...the absolute best red lipstick out there, that looks amazing on EVERYONE.
Revlon Super Lustrous in Love that Red.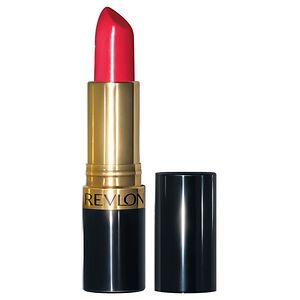 This is the best lipstick I have found. The color looks awesome on everyone...most of my friends and family have at some point borrowed this color from me. The formula is perfect. Creamy, vivid color that stays put. It doesn't bleed, fade or dry up your lips.
All of my favorite lipsticks are Revlon. Favorite pink...
Revlon Color Burst in Fuchsia.
This fuchsia is great! A deep rich color that is not at all bubble gum, the formula is actually a little better the the Super Lustrous above. Again, very creamy with great staying power.
My favorite coral...
Revlon Moon Drops Creme in Hot Coral.
This shade of coral stands out. The color is so vivid and bright, I get asked what lipstick I am wearing all the time. The formula is not quite as good as the other two. Not as creamy and it has that weird lipstick smell. However, it's still the best coral I have found.
I am going to go through some other shades and brands that I have tried just to give you my two cents. However, you could totally stop reading here, go buy the 3 lipsticks above and you would be set for life. :)
Urban Decay Super Saturated High Gloss Lip Color.
The name is a mouthful but it lives up to every word. If you want to spend a bit more, this is well worth the money. I have only tried Punch Drunk (orange) and Crush (hot pink) as I don't like pearlescent or shimmer on my lips. This formula is kind of amazing. It is glides on like a lipstick, shines like a gloss and the finish is vinyl (in a good way). Great staying power.
Lipsticks to never waste your money on
Lancome Rouge in Love 181
- I was so excited to splurge on this lipstick and then sooooo disappointed after wearing it a few hours. I had been obsessing over it since trying it on in Sephora. So creamy and light but still bright and vivid color. Sadly, this lipstick bleeds outside of your lip line :( I suppose I could add a few steps like lip liner or powder or use a lip brush. But why would I spend 4 times as much money and twice as much time when with Revlon I can apply it straight from the tube and it looks impeccable? Waste of money.
Revlon Super Lusterous in Siren
- This coral is way too light if you are looking to do a bold lip and somehow this shade lacks the creamy, vivid finish of Love that Red.
Maybelline Color Sensation in Very Cherry
- This shade of red looks garish. The formula is dry and cakey. Perhaps it would work on a darker or lighter complexion.
A word on glosses...
Glosses can look beautiful but at the end of the day they are too much of a pain in the ass. They don't stay put and my hair always ends up in my mouth. However if you like glosses here are a few good ones I have found.
Revlon Infallible Gloss in Rebel Red
Great color. A deeper red with the tiniest hint of shimmer. Can be applied lightly to be more sheer or layered for more pigment. Tends to clump around the inner edges and corners of your mouth, so check and reapply every couple hours.
Bare Minerals Pretty Amazing in Strength
A red without any shimmer. The color is very rich, bold and highly pigmented. On me it tends to have a pinkish cast that I am not a fan of. Hard to apply. Works best over a red lip liner. Slightly drying.
Revlon Super Lustrous Lipgloss in Cherries in the Glow (discontinued)
This was my first foray into red lip color. It is very sheer and pretty. This would be a good option for anyone not quite ready for a bold lip. Though it is discontinued you can still find it through google.
A word on lipstains...they all suck and are a giant waste of money. I love the idea of lipstains and have tried several. However, they never live up to the dream. Your lips have to perfectly smooth and conditioned for lipstains to go on and actually look nice. This means moisturizing and exfoliating. But once appiled, they invariably dry your lips out and the color gets weird. I have scoured the interent for tips on applying lipstain and none of them help. Save your time and money. You'd do just as well eating a cherry popsicle or going the jello route.
This was a super long post. These are just my opinions. If you are still with me thanks and I hope it was helpful. If you have recently hopped on the cat eye liner look and would be interested in hearing eyeliner recommendations please let me know.